Ignacy Jan Paderewski (6 November 1860 – 29 June 1941) starring in the innocent and lyrical film Moonlight Sonata (1936)
Official Website in English: http://konkurspaderewskiego.pl/en/competition/
The 11th Competition
THE 11th INTERNATIONAL PADEREWSKI PIANO COMPETITION
BYDGOSZCZ
STAGE I
25-30 minutes
Sala koncertowa Akademii Muzycznej im. F. Nowowiejskiego
Concert hall of the Nowowiejski Music Academy
Bydgoszcz, ul. Gdańska 20
11th November 2019
Leonardo PIERDOMENICO – Italy (Fazioli)
Respighi Nocturne
What a remarkable piece to begin this competition. I knew nothing of it and no-one else I spoke to had heard of it either. The sound from the piano that Pierdomenico produced was magical and conjured up the mysteries of a con amore night. The opening motif of descending thirds seems to be the key motif to this piece as it repeats throughout. He brushed the keys ever so lightly and gently. Avoiding a blur and excessive volume of sound would be difficult so he reduced his use of the pedal accordingly, creating this muffled, hazy sound pregnant with hidden night meanings. So haunting. A Nocturne to compare with the greatest written and an unexpected discovery. Not a piece for a pianist without a sensitive ear for sound and a velvet touch at the instrument.
Clementi Sonata in F-sharp minor Op. 25 No. 5
Allegro espressivo
Lento e patetico
Presto
Italians seem to feel a cultural affinity with Clementi. This sonata was also skillfully under-pedaled with excellent and luminous classical style. Intimate and tender. His sonatas are so often underrated, something that Horowitz would disagree with being inordinately fond of the G minor sonata. He recorded many of them. The Lento e patetico (movingly with pathos) movement was seductively melancholic. This sensitive performer is a fine and expressive musician. The Presto was full of energy and there was air and breath control in the articulation.
F. Liszt Scherzo and Marsch S. 177
I am not terribly familiar with this work but the humour and 'joke' aspect of the word scherzo was clear. Judicious pedalling and dynamic sensitivity revealed the polyphony. Oddly I found the Lisztian contrasting Marsch rather lacking in nobility and rather noisy – militarily inexpressive but the conclusion was impressive and rather haunting. A magical and musically deeply sensitive and outstanding pianist beginning the competition.
Sergey Belyavsky Russia (Fazioli)
L. van Beethoven Rondo a capriccio in G major, Op. 129
I felt he approached this rather too much of a virtuoso pianistic exercise and so lacked a little in the expressiveness I associate with Beethoven, at least for me.
S. Taneyev (1856-1915) Prelude and fugue in G-sharp minor, Op. 29
I am unfamiliar with this work by the Russian composer, pianist, teacher of composition, music theorist and author. The Fugue was particularly impressive and rather grand in conception.
F. Liszt Transcendental Etude No. 11 Harmonies du Soir
There is little doubt that the Harmonies du Soir is one of the great masterpieces of the declaration and yearnings of Romantic love in nineteenth century piano literature. The titles of these pieces leave open many possible interpretations to the listener. This is merely my own. I find in this work the presage of the passions that inspire that sublime arc of tension and release contained in the Liebestod of Tristan und Isolde. Wagner's debt to the harmonic adventurism of Liszt is never in doubt to my mind. The difference here is that life and not death inhabits this particular panorama of love.
Softly the bells toll at dusk as the lover wanders in a pastoral reverie, perhaps in a park in Weimar, passing by Goethe's summer house, wood smoke in the air and the burble of the nearby Ilm river. He begins to dwell on his feelings for the seductive other who has captured his heart in a net. We begin to inexorably move into his 'human, all to human' mind as he imagines his beloved, we feel his fears and apprehensions, experience his almost coarse desire, his passions rising and falling in waves of increasing ecstasy, finally reaching an apotheosis. These debilitating emotions slowly fade as he returns to the calm of evening, 'calm again now my heart' as if the soft wings of a night moth had settled over him.
I feel Belyavsky might perhaps accelerate his imagination in such an imaginative way approaching this work, despite the fact it was a fine performance if a little superficial for me.
Rondo Fantastico on a Spanish Theme "El Contrabandista", S. 252
Fancy Liszt writing a work based on contraband smugglers! Liszt's piece was published in 1837, with a dedication to George Sand (Op. 5 No 3). The companion pieces are the Clochette-Fantaisie and the Fantaisie romantique sur deux mélodies suisses. A tremendously impressive early work often neglected. Sergey Belyavsky is to be congratulated on resurrecting it despite the supreme pianist difficulties he overcame!
Marek KOZAK – Czech Republic (Yamaha)
L. van Beethoven Sonata No. 13 "quasi una fantasia" in E-flat major, Op. 27 No. 1
I felt he could have invested this work with a great deal more musical meaning. Certainly he played the work outstandingly well but emotional significance was wanting at least for me.
Andante
Allegro molto e vivace
Adagio con espressione
Allegro vivace
F. Chopin Scherzo No. 3 in C-sharp minor, Op. 39
I felt a lack of what one might call a strong personal or individual statement in his playing but undoubtedly this will come with time. Chopin completed this work during a period of convalescence in Marseilles. It is 'one of Chopin's most unusual and original works' (Jim Samson). Certainly it is the closest Chopin came to the Lisztian idiom and in the bravura writing I felt Kozac was not at home in this work. The contrasting drama which suffuses the work was thus left somewhat in abeyance.
A. Skoumal is one of the foremost Czech pianists and composers. The Jongleur is a musical depiction of an itinerant medieval entertainer proficient in juggling, acrobatics, music, and recitation. An effective picturesque piece unfamiliar to me.
Liu Tianyuan – China (Kawai)
J. S. Bach – E. Petri Sheep may safely graze, BWV 208
Pleasantly played but the choice of this work for a competition performance defeats me.
L. Kirchner (1919-2009) Interlude II
A work unfamiliar to me by a contemporary American composer. He succeeded Walter Piston as Professor of Music at Harvard from 1966-1989. Well I do not respond well to rather modern abstract musical statements….
N. Medtner Sonata in G minor, Op. 22
This work was far more convincing and impressive. Here was more heartfelt rhapsodic passion but what emotional depth can one expect of such a young pianist. Medtner explores an extraordinary range and scope of emotion here which requires mature emotional as well as musical response.
Saya Ota – Japan (Kawai)
A. Grünfeld Soirée de Vienne, Op. 56
I adore the Grünfeld arrangements of Viennese waltzes and his own compositions as they call to mind a wonderful period of joy and happiness before the cruel disillusionment of the Great War from which we have never recovered. Ota never quite captured the authentic gemütlichkeit of this period as the work was so perfectly prepared pianistically that any spontaneity and informal charm, hallmarks of the period, was absent.
A. Scriabin Piano Sonata No. 7, Op. 64
Again excellently prepared and performed but to deeply penetrate Scriabin one must have a deep sense of metaphysics and existential dis-ease if one is to communicate the strange psyche of the composer to an audience. His neurosis is so hard to create in the imagination, a movement of the soul in the universe reaching for the stars.
F. Liszt Concert Paraphrase on Rigoletto, S. 434 after Verdi's opera
This was impressive and I felt the pianist fully understood the work and its implications. Her finely honed piano technique was evident and she employed a most affecting rubato that made me want to dance.
Kamil Pacholec – Poland (Steinway)
Happy Birthday Kamil!
F. Chopin Barcarolle in F-sharp major, Op. 60
A warm and expressive Bacarolle with excellent expressive rubato. He gave us a fine narrative of lovers on the Venetian lagoon who have a not too serious emotional difference or even argument but return to the embrace of each other's arms. His tone and touch at the instrument however could have more finesse.
C. Debussy Préludes, Book I:
No. 5 Les collines d'Anacapri
No. 9 La sérénade interrompue
No. 10 La Cathédrale engloutie
Superbly impressionistic….I have nothing to say other than I found La Cathédrale engloutie created indelible paintings in my mind.
C. Gounod – Liszt Waltz from the Opera Faust
Idiomatic and so joyful in its feeling of celebratory dance. Romantic playing (there will be a prize awarded in the competition for the most romantic playing – a wonderful idea!). Mood changes were swift and a terribly effective changing of gear. He captured the abandoned nature, even salacious reputation, of the waltz to perfection.
Bolai Cao – China (Yamaha)
D. Scarlatti Sonata in D minor, K. 1
From the first note a glistening, glittering tone and finessed touch that captivated me completely. No pedal and the Scarlatti was ravishing – more please!
L. van Beethoven Sonata No. 26 in E-flat major, Op. 81 a
Minimal pedal retained this wonderful tone and finger technique – fingerfertigkeit. The Adagio may have been a fraction too slow and deliberate, verging on the sentimental. I also felt despite his superb pianistic abilities that the emotions of L'Absence did not come organically from the heart. All rather too cool and brilliantly 'pianistic' for my more romantic heartfelt tastes. Does he truly understand the gripping melancholy of a loved one's absence as did Beethoven?
I. Les Adieux: Adagio – Allegro
II. L'Absence: Andante espressivo
III. Le Retour: Vivacissimamente
C. Debussy L'isle Joyeuse
I had much the same feeling of emotional detachment, emotional unavailability to quote a psychological term, in this work. Is the work based on sensual and erotic experiences of the island of Jersey where Debussy spent time with his lover Emma Bardac, secretly away from his wife. Tempting to believe but perhaps not entirely true if one carefully examines the dates of the composition. Or was it partly inspired by the air of romantic melancholy in the painting of Watteau L'Embarquement pour Cythère ? Gloriously played pianistically but where was the deeper emotional musical meaning ?
F. Liszt Transcendental Etude No. 10 Appassionata
An absolutely brilliant performance that swept me away completely! The glitter and glow in the tone of this pianist is absolutely ravishing and so suitable for Liszt. His use of the flutter pedal is hugely skillful. Great passion unleashed here and spine-tingling articulation.
Mateusz Krzyżowski – Poland (Kawai)
C. Debussy Préludes, Book II:
No. 1 Brouillards
No. 2 Feuilles Mortes
No. 3 La Puerta del Vino
Extremely fine impressionistic performance, especially La Puerta del Vino
K. Szymanowski 4 Etudes, Op. 4:
No. 1 in E-flat minor
No. 2 in G-flat major
No. 3 in B-flat minor
No. 4 in C major
Certainly one of the deepest interpretations of any works today. Sensitive, moving, atmospheric, deeply emotional and musically superb in its penetration of the soul of Szymanowski.
Kana Niiro – Japan (Kawai)
W. A. Mozart Piano Sonata No. 9 in D major, K. 311
Allegro con spirito
Andante con espressione
Rondeau
Kana Niiro plays with a feeling of immaculate preparation but needs to develop her own voice more and come to some deeper conclusions of the musical meaning of the work. Popular Mozart provides ambiguous and unpredictable interpretative challenges for the pianist.
B. Bartók Piano Sonata, Sz. 80
Allegro moderato
Sostenuto e pesante
Allegro molto
My comments above could be equally applied to this fiercely demanding work.
Yilei Hao – China (Kawai)
D. Scarlatti
Sonata in G major, K. 14
Sonata in C minor, K. 11
Sonata in E major, K. 135
A well performed group but not sufficiently exciting, 'Spanish' or rhythmically distinctive for me who plays them on the harpsichord.
S. Rachmaninov Etudes-tableau, Op. 39 No. 5 Appassionato
I felt that the profoundly 'Russian atmosphere' of this magnificent piece, vital to its emotional life, escaped the grasp of this pianist however well he had mastered the work at the keyboard.
L. Janáček In the Mists
I. Andante
II. Molto adagio
III. Andantino
IV. Presto
An unusual choice this Leoš Janáček – In the Mists (1912). This is a collection of four piano pieces marked: Andante; Molto Adagio; Andantino; Presto. A rather introspective work that is hard to grasp physically, as if the piano itself were somehow lost in the clouds. It is not a virtuoso display piece but requires a refined touch to paint its watercolor phrases. He could have expressed the nebulous qualities, rhythmic and harmonic fluctuations as well as beautiful melodies rather more eloquently and sensitively.
Łukasz Byrdy – Poland (Yamaha)
C. Debussy
Préludes, Book I:
No. 5 Les collines d'Anacapri
No. 11 La danse de Puck
No. 12 Minstrels
Préludes, Book II:
No. 3 La puerta del Vino
No. 6 General Lavine – eccentric
No. 12 Feux d'artifice
How this pianist has developed since I last heard him some years ago! I liked the rhythmic refinement, danced energy and detaché articulation of his Debussy. His forte can on occasion verge on the exaggerated dynamically but in Book II he created fine impressionistic paintings in sound.
F. Liszt Hungarian Rhapsody No. 12 in C-sharp minor, S. 244
I found this an excellent performance, full of the whimsical passionate nature of Liszt's view of the Hungarian temperament. Perhaps a little more finesse and nuance might be in order but this is personal taste in such a robust work.
Philipp Lynov – Russia (Steinway)
L. van Beethoven Sonata No. 18 in E-flat major, Op. 31 No. 3
Allegro
Scherzo. Allegretto vivace
Menuetto. Moderato e grazioso
Presto con fuoco
Some of the most exciting and virtuosic playing I have heard in a long time. In the Scherzo such brilliant articulation and forward momentum. His sfortzandos were like an electric jolt, a shock. The contrast between movements was almost exaggerated but I found the tempo of the Presto so exciting. A young man reveling in his keyboard capacities which are formidable indeed. The momentum he generated was unstoppable! However I did keep asking myself 'Is this Beethoven?'
S. Prokofiev 4 Etudes, Op. 2
These formidable and demanding works simply exploded over us. I felt it was a staggeringly virtuosic, self-confident and brilliant performance the like of which I have rarely if ever heard. Utterly convincing in its power to excite and move.
If this young man matures and deepens his musical penetration and interpretative depth predict he will evolve as a truly powerful pianistic force on the horizon.
Saetbyeo Kim – Republic of Korea (Fazioli)
F. Liszt Hungarian Rhapsody No. 13 in A minor, S. 244
I enjoyed the shifting moods and temperamental engagement she brought to this work very much. I harbored some shadowy doubts about her view of the work as a coherent structure, if it actually held together as a unified conception.
J. Haydn Sonata in A-flat major, Hob. XVI: 46
Overall a refined performance of Haydn with a grasp of his sense of humour which was enlivening. However I did not find the Adagio sufficiently moving and the Presto stylistically worrying with a few solecisms creeping in.
Allegro moderato
Adagio
Finale. Presto
D. Shostakovich Prelude and Fugue in D-flat major, Op. 87 No. 15
A rather unusual programme altogether for me. I could not help reflecting on the vast musical development between Haydn and Shostakovitch. I was slightly discomforted at being forcibly transported from eighteenth century grace and civilized refinement to the violence and bitter irony of twentieth century Russia, even if this was a 'baroque' work from this monumental set of Preludes and fugues by Shostakovitch. Kim was magnificent in this fantastic fugue, with relentless forward drive, music that clearly suited her temperament.
Se-Hyeong Yoo (Republic of Korea) (Steinway)
L. van Beethoven Sonata No. 27 in E minor, Op. 90
Mit Lebhaftigkeit und durchaus mit Empfindung und Ausdruck
Nicht zu geschwind und sehr singbar vorzutragen
Composed in 1814, the Sonata in E minor Op.90 was written during years of severe stress and anxiety for Beethoven. From 1812-1817 he was preoccupied with the law-suit with his sister-in-law over the custody of his nephew Karl, a letter full of anguish and despair to the 'Immortal Beloved' and the tortuous progression of his deafness. Not a time of great productivity.
Instead of the tempo indications in Italian, Beethoven mines his emotional life to come up with, at the time, unconventional expressive indications in German: Mit Lebhaftigkeit und durchaus mit Empfindung und Ausdruck ('With vivacity and with feeling and expression throughout'). The beautiful almost Schubertian cantablile rondo melody in the following movement is marked: Nicht zu geschwind und sehr singbar vorgetragen ('Not too swiftly and conveyed in a songful manner). This movement is surely a foreshadowing of Romanticism in its legato and cantilena as well affecting poetry. The lean and delicate writing here with hints of struggle ends at peace in the extraordinary last two bars.
Donald Tovey writes of its 'passionate and lonely energy' whilst Charles Rosen refers to the sonata as 'despairing and impassioned'. Yoo's playing was most expressive, musical sentences with meaning at an acceptable moderate tempo that permitted reflection. He possesses a rich sense of the classical style. This being said, I still felt it a challenge to penetrate the organic core of this sonata.
A. Scriabin Waltz in A-flat major, Op. 38
Although at the time of its composition in 1903 Scriabin was turning to the mystical in life as his psyche became increasingly dislocated, some of his compositions were rather Romantic. This waltz is one such example. That said, it was quite advanced for its time. The waltz opens with an opulent Scriabinesque theme 'that seems to exude heavy perfumes or remind the senses of flowers slightly wilting in the hot sun' as Robert Cummins writes incomparably in a sleeve note. 'The melody is sweet and leisurely, quirky and hesitant, but can suddenly turn passionate and fiery.' I felt Yoo captured this mood eloquently.
S. Rachmaninov Etude-Tableau, Op. 39 No. 5 Appassionato
I found this utterly convincing Russian Rachmaninoff. In its passionate phrasing he gave us a powerful view of the work. He gave it time to breathe with pregnant silences and expectant hesitations that was most moving on an emotional level. An extremely satisfying recital altogether.
Marcin Wieczorek – (Poland) (Fazioli)
F. Chopin
Etude in C major, Op. 10 No. 1
Scherzo No. 1 in B minor, Op. 20
All I can say here is that it is rather hard for me to come to terms with this pianist's extremely youthful, controversial and exuberant view of Chopin.
K. Szymanowski Variations in B-flat minor, Op. 3
'The cycle of twelve variations on Szymanowski's own theme was composed during the years 1901-1903, while he was studying with Zygmunt Noskowski in Warsaw. The composition is in the late Romantic style, echoing the tradition of the nineteenth-century maestros of piano music, above all Robert Schumann and Ferenc Liszt. The majority of the variations are of strikingly virtuoso character, emanating with the brilliance of great piano playing, and demonstrating young Szymanowski's perfect intuition for the technical and timbral possibilities of the piano.' (Polska Music).
Wieczorek revealed a poetic side to his playing (as he did in the cantabile central section of the Scherzo.) However this was quickly eclipsed by his virtuoso wizardry. The spectacular variations tended to shadow the more introspective and thoughtful ones.
Yunling Zhang (China) (Kawai)
S. Prokofiev Sarcasms, Op. 17
Prokofiev's composed Sarcasms between 1912 and 1914. He rejoiced in the controversy provoked by such extravagant compositions and performances, and the subversive ironical element contained within this criticism of the Russian government. In 1941 he reflected on the fifth Sarcasm: 'Sometimes we laugh maliciously at someone or something, but when we look closer, we see how pathetic and unfortunate is the object of our laughter. Then we become uncomfortable and the laughter rings in our ears, laughing now at us.'
I felt Zhang showed brilliant articulation here, forceful broken chords and great intensity of utterance. These miniatures were evidently inspired by those of Schoenberg and Bartok.
L. van Beethoven Sonata No. 28 in A major, Op. 101 (1816)
There are 4 movements and this experimental sonata is generally regarded as the beginning of Beethoven's final period when his forms became ever more dense and complex harmonically. It was the favorite Beethoven sonata of Richard Wagner with its seemingly endless melodies.
Etwas lebhaft, und mit der innigsten Empfindung (Somewhat lively, and with innermost sensibility). Allegretto, ma non troppo
Lebhaft, marschmäßig (Lively, march-like). Vivace alla marcia
Langsam und sehnsuchtsvoll (Slow and longingly). Adagio, ma non troppo, con affetto
Geschwind, doch nicht zu sehr, und mit Entschlossenheit (Swiftly, but not overly, and with determination). Allegro
Great tenderness is evident in the first movement of this sonata. Zhang made the polyphony clear with judicious pedaling. Beethoven spoke of 'impressions and reveries' in this sonata. The German indications for each movement say much about the mood of the content. The Marcia was muscular under her fingers but the Adagio did not move me in any a particularly emotional way. One must never forget Beethoven was a mature and disappointed man who was totally deaf. There was not a great deal of evidence of Beethoven's subtle humor which is present in the final movement. She should breathe more and adopt a moderate tempo in the magnificent fugue (grotesquely humorous perhaps) to give the listener time to unravel the complex inner voice content. A fine performance that simply requires maturity to ripen into a significant depth of utterance.
Xuehong Chen (China) (Fazioli)
This pianist won the 2016 Beijing Chopin Piano Competition so my hopes were high, hopes which were ultimately more than fully satisfied as we shall see.
D. Scarlatti
Sonata in E major, K. 380
I do not agree this should be played lyrically as nearly all pianists do. I play it on the harpsichord and there the triumphant fanfares of trumpets are ceremonially clear and present for the splendid entry of Queen Maria Barbara to the Escorial.
Sonata in F minor, K. 48
This beautiful cantabile sonata could well have been played on a Cristofori piano. Queen Maria Barbara owned five such instruments. Chen played this piece in a most lyrical and affecting fashion.
Sonata in D major, K. 96
He performed this in a declamatory trumpet and brass filled manner with stunning articulated repeated notes as fine as Horowitz.
F. Chopin Ballade No. 1 in G minor, Op. 23
One immediately notices the alluring tone and refined touch this pianist produces. Once such qualities were regarded as the sine qua non of piano playing, but today I have my doubts with the adulation of volume, power and velocity. This performance was unusual and deeply satisfying in its emotional and expressive range that had at its heart a superb sense of narrative. A rather introspective interpretation of immense sensitivity and nobility of conception. The styl brillant passages glittered in sunlight like 'strings of matched pearls'. I am not normally given to hyperbole, but this performance was without doubt one of the finest and most moving I have ever heard of this renowned Chopin Ballade.
A. Scriabin Sonata No. 4 in F-sharp major, Op. 30
Andante
Prestissimo volando
In the sonata that concluded the programme we explored the mystical and metaphysical magic of Scriabin. For this work the composer wrote a programme: a poem describing flight to a distant star.
Thinly veiled in transparent cloud
A star shines softly, far and lonely.
How beautiful! The azure secret
Of its radiance beckons, lulls me …
Vehement desire, sensual, insane, sweet …
Now! Joyfully I fly upward toward you,
Freely I take wing.
Mad dance, godlike play …
I draw near in my longing …
Drink you in, sea of light, you light of my own self …
The poem works with the music in a creative symbiosis. The notion of flight is ever present in his extraordinary mind – Prestissimo volando is the indication. In the first movement the 'Tristan' yearning of love and desire followed without a break to a movement of which Scriabin demanded 'I want it even faster, as fast as possible, on the verge of the possible … it must be a flight at the speed of light, straight towards the sun, into the sun!' Chen carried us into another world uniquely belonging to this composer.
The sonata ends in triumphal joy. Scriabin once wrote:
'To become an optimist in the true sense of the word, one must have been prey to despair and surmounted it.'
Chen invested his interpretation with sensuality and eroticism in addition to refinement power, mystical flight, command of the abstract score and the deepest poetry. This pianist is a musical artist of the first water.
Gyu Tae Ha (Republic of Korea) (Kawai)
J. Haydn Sonata in B minor, Hob. XVI: 32
Allegro moderato
Menuetto
Finale. Presto
This was a stylish and charming performance with a touch of affectation associated with conversational Viennese aristocratic society. No pedal. The Presto was slightly too fast for me but then modern life is moving at a greater speed than in the days of Haydn.
F. Chopin Nocturne in D-flat major, Op. 27 No. 2
An excellent, tonally seductive and nuanced performance.
F. Liszt Mephisto Waltz No. 1 in A major
This was a fine performance of this insidious piece. He brought far more interpretative depth to the work than mere virtuosity which one hears far too often.
Liszt was obsessed by Faust and he chose the account of the story by Nikolaus Lenau to set this piece of programme music. This passage from Lenau appears in the actual score:
"There is a wedding feast in progress in the village inn, with music, dancing, and drunken carousing. Mephistopheles and Faust wander by, and Mephistopheles persuades Faust to enter and join in the festivities. Mephistopheles grabs the violin from the hands of a sleepy violinist and draws from the instrument seductive and erotically intoxicating strains. The amorous Faust whirls about with a sensual village beauty [the landlord's daughter] in a wild dance; they waltz in mad abandon out of the room, into the open, away into the woods. The sounds of the violin grow softer and softer, and the nightingale sings his love-soaked song."
A Lithograph from Delacroix's Faust
Hyun Jin Roh (Republic of Korea) (Steinway)
J. Haydn Sonata in B minor, Hob. XVI: 32
Allegro moderato
Menuetto
Finale. Presto
This was particularly charming Haydn with much and welcome variation in expressive dynamics and articulation. A very attractive performance with delicacy and refinement as well as gracefulness in the Menuetto. Also not too hectic and virtuoso a Presto.
F. Chopin Etude in A-flat major, Op. 10 No. 10
An excellent performance of a challenging Etude.
M. Ravel La Valse
There are three versions of this mysterious and sensual work – a ballet score, a version for piano duo and a solo piano version. Although Ravel denied the work was a panoramic description of the decay of civilization following the horrors of the Great War in 1919, I feel the implications are inescapable. I felt Roh introduced too many excessive dynamic contrasts which tended to disturb unduly the many details that fascinate.
Ravel described his composition as a 'whirl of destiny' – his concept was that the work impressionistically begins with clouds that slowly disperse to reveal a whiling crowd of dancers in the Imperial Court of Vienna in 1855. The Houston Symphony Orchestra programme note for the orchestral version performed in 2018 poses the question Dance of Death or Delight? which I feel encapsulates perfectly the ambiguity inherent in this disturbing work. A composer can sometimes be a barometer that unconsciously registers the movements of history. This might well be the case here but such ambiguities tended not to be expressed in this performance.
Arisa Onoda (Japan) (Yamaha)
F. Chopin Fantasie in F minor, Op. 49
This was an excellent performance of this profound work on the pianistic level but on th interpretative level it could have been deeper.
Carl Czerny wrote perceptively in his introduction to the art of improvisation on the piano 'If a well-written composition can be compared with a noble architectural edifice in which symmetry must predominate, then a fantasy well done is akin to a beautiful English garden, seemingly irregular, but full of surprising variety, and executed rationally, meaningfully, and according to plan.'
At the time Chopin wrote this work improvisation in public domain was declining. With many of Chopin's apparently 'discontinuous' works (say the Polonaise-Fantaisie) there is in fact an underlying and complexly wrought tonal structure that holds these wonderful dreams of his tightly together as rational wholes.
As I listened to this great revolutionary statement, fierce anger, nostalgia for past joys and plea for freedom I could not help reflecting how the artistic expression of the powerful spirit of resistance in much of Chopin is so desperately needed today – not in the restricted nationalistic Polish spirit he envisioned but with the powerful arm of his universality of soul, confronted as we are by the incomprehensible onslaught of evil and barbarism. We need Chopin, his heart and spiritual force in 2019 possibly more than ever before.
C. Debussy Pour le piano (1901)
Prelude
Onoda brought this movement off outstandingly well with its echoes of Java (recalling Pagodes from Estampes)
Sarabande
I felt more intimacy could have been brought here as Debussy so often imagines in pictures – 'an old portrait in the Louvre' in this case.
Toccata – the influence of Scarlatti was here and Onoda coped well with these shadows.
Rustam Muradov (Russia) (Steinway)
J. Haydn Sonata in D major, Hob. XVI: 42
Andante con espressione
Vivace assai
The maturity and experience of this pianist was clear from the outset. The Haydn was perfect stylistically with all the Viennese conversational charm one needed.
G. Faure Barcarolle No. 2 in G major, Op. 41 (1885)
Muradov brought glowing colour to this ravishing and romantic work. It should be performed far more often in repertoire.
I. Stravinsky – G. Agosti Firebird Suite
Dance infernale
Lullaby
Final
I hoped that his wide experience might prevent Muradov from being carried away by virtuosity in his account of this magnificent work but I fear he tended to become rather rough in tone and touch as we progressed towards the tumultuous finale.
This work is most familiar from the orchestral version. The piano reduction Stravinsky made is rarely performed. The work almost defies translation from the orchestral version.
The ballet is a mixture the stories of the Firebird and Kashchei the Immortal, two of Russia's most well-known legendary stories or fairy tales. Prince Ivan comes into an enchanted garden and captures the Firebird. The bird wants to be released and promises Ivan it will assist him in the realization of his desires.
Ivan falls in love with one of the thirteen princesses he meets. She informs him that he is in the realm of Kashchei the Immortal, a powerful wizard who captures and imprisons passing travelers making them slaves. Ignoring her warning, Ivan approaches Kashchei to request her hand in marriage. Kashchei orders his magic creatures to attack the prince and tries to turn Ivan to stone. The Firebird comes to Ivan's aid, enticing the creatures into a dance and then putting them to sleep. The bird bewitches Kashchei in the same manner.
The screech at the beginning as the bird precipitously attacks is deeply disturbing. Then the 'infernal' dance rhythms with their relentless intensity begin to wear the attackers down. This movement is of immense pianistic difficulty with leaps at fortissimo and huge glissandi. One could easily visualise the bird in its various tempestuous rhythmic transformations during this demented attacking dance.
The creatures then fall asleep as depicted in the Berceuse. I loved Muradov's magical transition to this Lullaby. The triumphal wedding celebrations of the Finale developed in a way that, although supremely virtuosic, seemed to lose tonal control and begin to break through the sound ceiling of the instrument. Rough treatment, possibly interpretatively justified here, tended to enter the proceedings as Muradov quite understandably was carried away in his attempt to fully penetrate this passionate and incredibly demanding Stravinsky score.
THE INAUGURAL CONCERT
November 10th 2019 at 17.00
Paderewski Pomeranian Philharmonic Concert Hall
Paderewski Pomeranian Philharmonic Orchestra
conducted by Kai Bumann
Soloist – Nikita Mndoyants
1st prize 7th International Paderewski Piano Competition (Bydgoszcz, 2007)
Prokofiev – Concerto No. 2 in G minor, Op. 16
Andantino-Allegretto
Scherzo: Vivace
Intermezzo: Allegro moderato
Finale: Allegro tempestoso
This concerto is a great work, possibly one of the most difficult in the concerto repertoire and was performed tonight by Nikita Mndoyants, one of finest of Prokofiev interpreters playing today. The work was completed in 1913 and then destroyed by fire in the Russian revolution. Prokofiev reconstructed this work in significantly different form in 1923 and dedicated it to the memory of the young pianist and composer Maximilian Schmidthof, a friend of Prokofiev's at the St. Petersburg conservatorium. He had committed suicide in 1913 by shooting himself after leaving a nihilistic note His suicide note to Prokofiev read partly 'I am reporting the latest news to you. I have shot myself. Don't grieve overmuch. The reasons were not important.' and he quoted in a letter a dark poem by Mikhail Lermontov:
IT'S TIRESOME AND SAD
It's tiresome and sad, and there's no one to lend you a hand
In your heart's hour of trials and fears.
What you want is… What use, though, forever in vain to demand?
And the years pass you by, all the very best years.
Try loving, but whom? For the time, it's not worth all the trouble,
And no one keeps loving forever.
Look into yourself – All the past disappears like a bubble,
Both the joy and the torment, to naught your endeavour.
Your passions? Once, sooner or later, when Reason has found you,
Their sweet sickness will pass at her stroke;
And life, as you look with cold, distant attention around you,
Is just such a stupid and meaningless joke.
January, 1840. Mikhail Lermontov.
И СКУЧНО И ГРУСТНО
И скучно и грустно, и некому руку подать
В минуту душевной невзгоды…
Желанья!.. Что пользы напрасно и вечно желать?..
А годы проходят" все лучшие годы!
Любить… но кого же?.. На время" не стоит труда,
А вечно любить невозможно.
В себя ли заглянешь?" Там прошлого нет и следа:
И радость, и муки, и всё там ничтожно…
Что страсти? " Ведь рано иль поздно их сладкий недуг
Исчезнет при слове рассудка;
И жизнь, как посмотришь с холодным вниманьем вокруг, "
Такая пустая и глупая шутка…
Январь 1840. Михаил Лермонтов.
(Translated by Maxim Litvinov)
It is a work full of magnificent energy and life – an affirmation to live. This truly avant-garde work was attacked as 'shameful' in early performances as one of the worst examples of 'modernism' causing Prokofiev to be branded an 'anarchist' or 'futurist'. Progressive artists of the day loved it. It is exceptionally demanding on the pianist, orchestra and conductor. Of the premiere a newspaper review reported that Prokofiev was 'either dusting the keys or trying out the notes at the beginning of the Concerto' and that the audience was 'scandalized, the majority hissed.' Protests abounded: 'Such music is enough to drive you crazy!' 'The devil with such futuristic stuff!' The eminent music-historian and critic Vyacheslav Karatygin, described the audience as 'frozen with fright, hair standing on end'. I felt the work continues to inhabit the world of the avant-garde and is unsettling even today.
Before the official review, I would like to quote from comments I wrote of Mndoyants's outstanding approach to Prokofiev at Duszniki Zdrój in August 2017, when I first heard him.
'I had been greatly anticipating this recital from the winner of the 2016 Cleveland International Piano Competition, winner of the 2007 Paderewski International Piano Competition with which I am particularly familiar and a finalist in the 2013 Van Cliburn International Competition. Here we have a rare combination of composer and executant in an irresistible combination.
[…]
He concluded his recital with another work by Prokofiev, the last of the so-called 'War Sonatas', that masterpiece, the Piano Sonata No. 8 in B-flat major Op.84 (1944). Mndoyants captured the melancholy, that suppressed and not so suppressed suffering, the desolation of war which suffuses the opening movement Andante dolce. A deeply moving account. The indication to the second movement is curious Andante sognando (dream-like) which is predominantly lyrical, harmonically predictable and rather like seeing a waltz in a distant ballroom from a garden though shifting mists, lovers fitfully passing the golden illuminated windows of a mansion. Perfect poetic imagery with this pianist. The final Vivace was an absolute triumph of feathery lightness, glorious tonal quality, timbre and pointillist articulation – brilliant in a word with unrelenting forward movement. Quite fantastic this movement and unlike any Prokofiev I have ever heard. Tumultuous applause and an instant standing ovation.

Among the very greatest Prokofiev I have ever heard in a concert hall. One of the greatest recitals at Duszniki Zdrój for years.'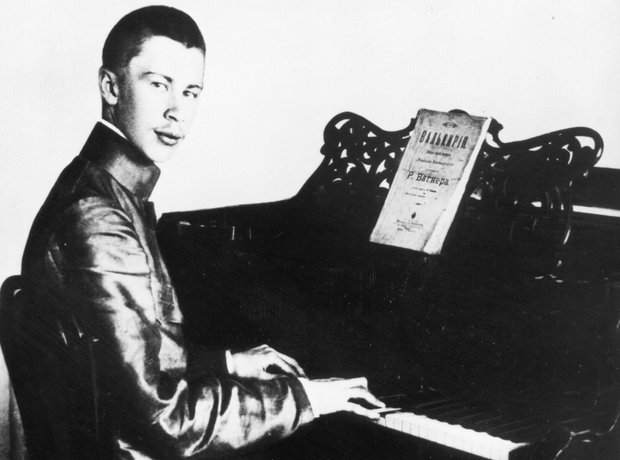 The pianism he displayed tonight simply confirmed my initial judgement of his temperamental affinity with Prokofiev. The concerto is in four movements. Mndoyants opened the extensive Andantino with great sensitivity, colour and refinement. The piano writing here is a long slow movement followed by a development which is a solo cadenza which has the reputation of being the longest and most demanding in the piano literature, specifically an Allegretto. Such panache and élan he brought to it! He was quite breathtaking in the transparency he expressed in this movement and the polyphonic details we were able to hear. It had the sweep of some variety of avant-garde Rachmaninoff. His formidably skillful and artistic pedaling had a great deal to do with the achievement of this astonishing result.
The second movement Scherzo: Vivace is short. I found it remarkably humorous in a rather dark mocking manner, ironical, a rather mechanistically driven perpetuum mobile. Mndoyants was buoyant in rhythm, expressive and his lightish detaché articulation which suited this puckish Stravinsky-like movement perfectly. The third Intermezzo: Allegro moderato is also dark in atmosphere as well feeling rancorous and malign. Yet in the absence of melody, Mndoyants managed to bring to it a high degree of expressiveness, the brittleness and acidic nature of Prokofiev much in evidence.
The Finale, as its heading Allegro tempestoso indicates, begins lyrically but is replete with sharply contrasting themes, uncomfortable melodies and pounding passages in the piano. The orchestra under Kai Bumann could have been far better balanced dynamically with the soloist in all the movements. I felt they were not so familiar with this work. Fortunately his solo exuberance was more than sufficient to blow us away with admiration. More opportunities for brilliant display were offered to the pianist Mndoyants in the second formidably bravura cadenza which snarls and writhes in its capture. The visual acrobatics were as astounding as the sound he produced.
A highly rewarding concerto performance followed by a fine and surprisingly emotional Beethoven Bagatelle Op. 126 as an encore.
Witold Lutosławski (1913-1994) – Concerto for Orchestra
One is of course reminded immediately of Béla Bartók's landmark 1943 score of the same name. Lutosławski commented on his Concerto:
'The folk material and all of its consequences … have found an application in 'Concerto for Orchestra'. The folklore was, however, merely a raw material used for building a large music form of a few movements that originated neither from a folk song or dance. A work which I could not rank among the most important ones in my music, 'Concerto for Orchestra' thus originated in a way which I had not quite expected, as a sort of a result of what was my episodic symbiosis with folk music' ("Witold Lutosławski. Materiały do monografii", ed. Stefan Jarociński, Kraków 1967, p. 44-45).
The Bydgoszcz musicologist Andrzej Chłopecki comments:
'The 'Concerto' is an artistic summit of what could have been done in the Polish music of the early 1950s without undermining the principles which were set for music by the system. The Bartók-Roussel-like eclecticism, practised with responsibility to Szymanowski's spiritual testament, with acceptance of Polish folk bias and without challenging the Social Realist utopia, sits by the doctrine, putting it into parenthesis. The doctrine does not apply, for this eclecticism escapes it, finding shelter in the history of European music … There is no answer to the question whether the 'Concerto' could have been written without Social Realism in the Polish music. Social Realism, however, may use the score as an alibi gained at the end of its life.' (Andrzej Chłopecki, "Witolda Lutosławskiego pożegnania z modernizmem" in: "Muzyka – słowo – sens", Akademia Muzyczna w Krakowie, Kraków 1994, p. 106).
The Concerto for Orchestra was premiered in Warsaw's Roma Hall on 26th November 1954. It was performed by the National Philharmonic Orchestra (known at the time as the Grand Symphony Orchestra of the Warsaw Philharmonic) under Witold Rowicki, to whom the work was dedicated. Oskar Kolberg's five-volume Mazowsze collection of Polish folk music from the Mazovian region was clearly utilized. These folk tunes, although considerably modified and transformed, recur throughout the Concerto, underlying all of the key themes and motifs. Enthusiastically received, the Concerto was given state awards the following year. The work secured the reputation of Lutosławski as the greatest living Polish composer. It is three movements:
1. Intrada (Allegro maestoso)
2. Capriccio notturno e arioso (Vivace)
3. Passacaglia, toccata e corale (Andante con moto. Allegro giusto)
The first movement produces overwhelming climaxes with strident brass fit for Judgement Day. The music reaches several overwhelming climaxes, punctuated by strident brass. Lutosławski uses at least two themes are based on Polish folk songs.
The middle movement gives one a feeling of secretiveness not unlike Bartók's ravishing Night Music. This fluctuates like liquid mercury, brilliant droplets combining and separating in terrifying, electrical intensity and suddenness, passing through a panorama of intense sound palettes. Kai Bumann appeared to lose his bearings at times although overall it was quite a strong performance, a work clearly familiar to this orchestra unlike perhaps the Prokofiev. There is not a great deal of finesse with this orchestra or its conductor. From the climax the music flickers out like a bonfire extinguished—the final bars are an extremely sensitive pianissimo duet for tenor and bass drum.
The final movement opens with a Passacaglia. Harps and double basses express a finale of fifteen variations, all carefully dovetailed and growing in intensity and activity until the last, which recedes into silence. This intensity increases until the final agitated toccata. The music evolves into a solemn wind chorale before it rushes to a triumphant conclusion.
The introductory commentary throughout the concert given by the famous Polish film director Krzysztof Zanussi was charming, sophisticated and imbued with all the qualities of sophisticated and refined sensibility and genteel wit that we have come to associate with Polish society before the unleashing of the dogs of war and occupation.
* * * * * * *
November 10th – 24th, 2019
The Competition is open to pianists of all nationalities, born between 1987 -2003.
The Competition is organized to commemorate Ignacy Jan Paderewski, a remarkable pianist, virtuoso, composer, politician and statesman.
The schedule:
April 20th, 2019 – the final deadline of sending the written applications
April 20th, 2019 – the deadline for pianists of send the entrance fee
April 30th, 2019 – the candidates are informed about the acceptance of their application or about the invitation to the preliminary audition
May 2019 – the preliminary auditions
June 15th, 2019 – the deadline of sending the DVD recordings of the preliminary repertoire (accepted only in particularly important cases)
July 30th, 2019 – the announcement of the final list of the candidates, invited to take part in the Competition
September 15th, 2019 – after this day, any changes of the repertoire will not be accepted
The 11 International Paderewski Piano Competition:
November 9th, 2019 – the Competition participants' arrival to Bydgoszcz
November 10th, 2019 – the Orientation Meeting and the drawing of the performances order
November 10th, 2019 – the Inaugural Concert
November 11th, 2019 – the beginning of the I stage audition
November 14th, 2019 – the announcement of the I stage results
November 15th, 2019 – the beginning of the II stage audition
November 17th, 2019 – the announcement of the II stage results
November 18th, 2019 – day off – rehearsals with the chamber orchestra (Semi-finalists)
November 19th, 2019 – the beginning of the Semi-final audition
November 20th, 2019 – the announcement of the Semi-final results
November 21st, 2019 – day off – rehearsals with the orchestra (Finalists)
November 22nd – 23rd, 2019 – the Final of the Competition
November 24th, 2019 – the Closing Ceremony
November 24th, 2019 – the announcement of the Prize winners & the presentation of the Awards
November 24th, 2019 – the Prize Winners' Concert
November 24th , 2019 – presentation of the Additional Prizes
November 25th, 2019 – the I, II and III Prize Winners' Concert in the National Philharmonic Hall in Warsaw.
* * * * * *
Jury of 11th Competition
JURY of the 11th International Paderewski Piano Competition
Bydgoszcz, November 10th – 24th, 2019
Piotr Paleczny, Poland – Chairman of the Jury, Artistic Director of the Competition
Lilian Barretto, Brazil
Manana Doijashvili, Georgia
Janina Fialkowska, Canada
Vladimir Ovchinnikov, Russia
Zbigniew Raubo, Poland
Waldemar Wojtal, Poland
Ying Wu, China
Yukio Yokoyama, Japan
Final List of pianists qualified to the 11th International Paderewski Piano Competition
The Competition's office announce, that Prof. Piotr Paleczny, the Artistic Director of the 11th International Paderewski Piano Competition in Bydgoszcz, has considered the written applications & results of the preliminary audition and recordings (DVD option).
Out of 185 original applications, the competition approved 56 pianists from 15 countries to the 11th International Paderewski Piano Competition in Bydgoszcz.
However 11 potential participants have withdrawn from the competition. Here is the order chosen by ballot this afternoon of 45 pianists from 11 countries
BELYAVSKY Sergey – Rosja/Russia
BYRDY Łukasz – Polska/Poland
CAO Bolai – Chiny/China
CHEN Xuehong – Chiny/China
FURUMI Yasuko – Japonia/Japan
GORANKO Joanna – Polska/Poland
HA Gyu Tae – Republika Korei/ Republic of Korea
HAO Yilei – Chiny/China
HIRAKAWA Aya – Japonia/Japan
HSU Ting Chia – Tajwan/Taiwan
HSU Yun Chih – Tajwan/Taiwan
KA Joo Yeon – Republika Korei/ Republic of Korea
KHOMICHKO Anna – Rosja/Russia
KIM Saetbyeol – Republika Korei/ Republic of Korea
KIM Seunghui – Republika Korei/ Republic of Korea
KISELEVA Daria – Rosja/Russia
KOZÁK Marek –Republika Czeska/Czech Republic
KRZYŻOWSKI Mateusz – Polska/Poland
KULIKOVA Polina – Rosja/Russia
LEE Linda – Republika Korei/ Republic of Korea
LI Gen – Chiny/China
LIU Tianyuan – Chiny/China
LYNOV Philipp – Rosja/Russia
MARKOVA Hristeya – Bułgaria/Bulgaria
MIZUMURA Shogo – Japonia/Japan
MOSSAKOWSKI Michał – Polska/Poland
MURADOV Rustam – Rosja/Russia
NIIRO Kana – Japonia/Japan
ONODA Arisa – Japonia/Japan
OTA Saya – Japonia/Japan
OVCHARENKOIlia – Ukraina/Ukraine
PACHOLEC Kamil – Polska/Poland
PAPOIAN Ilia – Rosja/Russia
PIERDOMENICO Leonardo – Włochy/Italy
ROH Hyun Jin – Republika Korei/ Republic of Korea
SATO Motohiro – Japonia/Japan
SHIGEMORI Kotaro – Japonia/Japan
SMIRNOVA Alina – Rosja/Russia
STARK Jonas – Niemcy/Germany
SZAŁUCKA Anna – Polska/Poland
WIECZOREK Marcin – Polska/Poland
WON JongHo – Republika Korei/ Republic of Korea
YOO Se-Hyeong – Republika Korei/ Republic of Korea
ZHANG Yunling – Chiny/China
ZHDANOV Denis – Ukraina/Ukraine
45 pianists from 11 countries
Korea – 8
Russia – 8
China – 6
Japan – 7
Poland – 7
Taiwan – 2
Ukraine – 2
Bulgaria – 1
Czech Republic- 1
Germany – 1
Italy – 1
REPERTOIRE OF THE COMPETITION
1. The Paderewski Piano Competition offers its participants an opportunity to perform the repertoire of their own choice. Thereby, the Organizers give pianists the chance to present their artistic personality, imagination and individuality.
2. NOTICE
Free choice of the repertoire is restricted by one condition only.
The repertoire to be performed throughout the Competition should contain works
representing at least three different music styles.
3. The Jury shall assess the selected repertoire and its rendition taking into account pianists' ability to construct the program of a recital, understand and render the depth of works representing a variety of musical styles, thereby display musicality and artistic personality.
1st STAGE – performance duration 25-30 minutes
Free choice repertoire
2nd STAGE – performance duration 40-45 minutes
1. All competitors of the 2nd stage shall perform two or more works by
I. J. Paderewski.
All competitors shall select works from group A and B – at least one from each group.
A. from the series – Polish Dances op. 9:
No. 3. Mazurka in A major
No. 4. Mazurka in B major
from the series – Album de Mai op.10:
No. 1. Au Soir
No. 2. Chant d'amour
from the series – Miscellanea op.16:
No. 1. Legend
No. 2. Melody
No. 3. Thėme variė in A major
No. 4. Nocturne
No. 6. Un moment Musical
B. from the series – Polish Dances op. 9:
No. 6. Polonaise in H major
from the series – Album de Mai op. 10:
No. 3. Scherzino
No. 5. Caprice Valse
from the series – Humoresques de Concert op. 14:
No. 1. Menuet
No. 2. Sarabande
No. 3. Caprice /genre Scarlatti/
No. 4. Burlesque
No. 5. Intermezzo polacco
No.6. Cracovienne fantastique
2. The selection of the remaining works of the 2nd stage repertoire is determined by the pianist.
SEMI-FINAL
A.
RECITAL – duration time 40–45 minutes
1. All the participants of Semifinal A shall perform a piece composed by Michał
Dobrzyński (ca. 5 minutes long), specially commissioned by and for the Competition.
The score of said composition shall be made available as soon as the list of
Competition finalists has been published.
2. The selection of remaining pieces performed in A semifinal shall be determined by
a pianist.
B.
W. A. MOZART PIANO CONCERTOS
Competitors in the semi-final stage shall perform one of W. A. Mozart piano concertos
with the Chamber Orchestra:
No. 15 in B-flat major, K.450
No. 17 in G major, K. 453
No. 19 in F major, K. 459
No. 20 in D minor, K. 466
No. 21 in C major, K. 467
No. 23 in A major, K. 488
No. 24 in C minor, K.491
No. 27 in B-flat major, K. 595
FINAL
The participants of the final stage shall perform with the I. J. Paderewski Pomeranian
Philharmonic Orchestra one of the following piano concertos:
I. J. Paderewski – Concerto in A minor op. 17
– Polish Fantasy op. 19
L. van Beethoven – Concerto No. 3 in C minor op.37
– Concerto No. 4 in G minor op. 58
– Concerto No. 5 in E flat major op. 73
F. Chopin – Concerto No. 1 in E minor op. 11
– Concerto No. 2 in F minor op. 21
R. Schumann – Concerto in A minor op. 54
F. Liszt – Concerto No. 1 in E-flat major
– Concerto No. 2 in A major
J. Brahms – Concerto No. 1 in D minor op. 15
P. Tchaikovsky – Concerto No. 1 in B-flat minor op. 23
S. Rachmaninov – Concerto No. 2 in C minor op.18
– Concerto No. 3 in D minor op. 30
– Rhapsody on a Theme of Paganini op. 43
S. Prokofiev – Concerto No. 2 in G minor op.16
– Concerto No. 3 in C major op. 26
K. Szymanowski – Symphonie concertante No. 4 op. 6
STATUTORY PRIZES
I prize € 30 000
II prize € 15 000
III prize € 7 000
Honorary mention € 2 500
Honorary mention € 2 500
The Finalists shall also be awarded the title
Laureate of the 11th International
Paderewski Piano Competition in Bydgoszcz.
SPECIAL PRIZES
a) € 2 000 – for the best performance of I. J. Paderewski's
Sonata in E flat minor op. 21 or Variations and Fugue in E flat minor op. 23
or in the Final of the Competition Concerto in A minor op. 17 or Polish Fantasy op. 19.
b) € 1 000 – for the best performance of W. A. Mozart piano concerto
c) € 1 000 – for the best semi-final recital
d) € 1 000 – for the best Polish participant classified to the semi-final or final
Special Paderewski Prize – awarded by the Paderewski Foundation in Morges and the
Geneva International Music Competition
3 000 CHF – for a pianist playing in a particularly expressive way in a romantic tradition and a concert in Switzerland.
* * * * *
For the 10th International Paderewski Piano Competition November 2016
https://michael-moran.org/blog/
For the 9th International Paderewski Piano Competition November 2013
http://www.michael-moran.com/2013/10/ix-international-paderewski-piano.html
* * * * * *
Piotr Betlej Op 10 N 1 2016 © Galerie Roi Doré
Paderewski is such an underestimated composer of affecting lyrical and poetic piano music which speaks directly to the heart and sensibility rather than burdening the intellect with high seriousness.
Naturally being a great patriot he writes many Polish mazurkas and polonaises but much of his solo piano music reminds me of a superb film score for say an intensely romantic French love affair set in Provence directed by Francois Truffaut. In our imaginations we could be bowling along a poplar lined route secondaire past hills of vineyards with Catherine Deneuve or Stephane Audran in the passenger seat of a Chapron Citroen cabriolet. Her hair is wonderfully awry in the wind as we head towards une belle gentilhommiere and nights of sophisticated sensual bliss, days of cultivated tastes, food and wine. Ah…what we have lost of true civilization and culture in 2016…Paderewski had it all.
The music of Paderewski wears its learning lightly with poetry, charm, elegance and refinement of the highest order. The pieces chosen are an excellent introduction of this neglected repertoire for these young pianists and with luck the pieces might kindle poetry and charm in their playing.
My argument of neglect is validated by the only recording of his complete piano works I know of made by the pianist Karol Radziwonowicz in Warsaw in 1991 in a co-production for the French Le Chant Du Monde label and the Polish label Selene. To my knowledge it has never been reissued. LDC 278 1073/5 distributed by Harmonia Mundi. Used copies are available but at inflated prices.
It is a great pity that the Paderewski Piano Concerto has been so rarely prepared by any participant in this competition. A special prize is even offered for the finest interpretation. Such a lyrical and grand work full of piano pyrotechnics, noble harmonies, dance energy and infectious charm. Audiences would adore it!
For me the finest interpretation of the Paderewski Piano Concerto in A minor Op.17 is by the Polish pianist and Chairman of the Competition Jury Piotr Paleczny with the Sinfonia Varsovia conducted by Jerzy Maksymiuk.
The BeArTon CD is available together with more information on Paderewski as well as the history and gestation of these two works using this link:
http://www.bearton.pl/en/the-best-of-paderewski-en/
You can also hear the work on 'SoundCloud' together with the Polish Fantasy for Piano and Orchestra Op.19 here:
I.J. Paderewski – Polish Fantasy For Piano And Orchestra Op. 19
https://soundcloud.com/piotr-paleczny-2/1-polish-fantasy-for-piano-and-orchestra-op-19
I.J. Paderewski – Piano Concerto In A Minor Op. 17
1st mov. Allegro
https://soundcloud.com/piotr-paleczny-2/ij-paderewski-piano-concerto-in-a-minor-op-17-1st-mov-allegro
2nd mov. Romanza. Andante
https://soundcloud.com/piotr-paleczny-2/ij-paderewski-piano-concerto-in-a-minor-op-17-2nd-mov-romanza-andante
3rd mov. Allegro Molto Vivace
https://soundcloud.com/piotr-paleczny-2/ij-paderewski-piano-concerto-in-a-minor-op-17-3rd-mov-allegro-molto-vivace
The fine English pianist Johnathan Plowright has recorded the Concerto in A Minor Op. 17, the Polish Fantasia Op. 19, the Sonata Op.21 and the Variations and Fugues Op. 11 & Op. 23 for Hyperion.
Another outstandingly fine account of the Concerto and Fantasia is by Antoni Wit and the National Polish Radio Symphony Orchestra of Katowice with the superb virtuoso Janina Fialkowska as soloist on the Naxos label.
You may like to read this excellent and heartfelt article on Paderewski whilst waiting for the competition to begin
ON THE 75TH ANNIVERSARY OF PADEREWSKI'S DEATH (29 June 1941)
'Poland is immortal!'
Written by the sadly missed Stanisław Dybowski (1946-2019)
'Poland is immortal!' so exclaimed Ignacy Jan Paderewski on 23 January 1940 at the inaugural meeting of the National Council of the Republic of Poland in Paris, when the situation of the country occupied by two invaders was being pondered. He once said about himself: 'I am neither lured by power nor attracted to the prestige of being the father of the nation and the more modest position of a useful son of his land would be more than sufficient to me'… and about himself as a pianist: 'everybody told me – and I was beginning to believe it myself – that I would never be a pianist.'
And yet, his strong belief that Poland is immortal led him right up to the pinnacle of art and politics. He worked in both those areas in order to further his patriotic goals, to which he subordinated everything else!
'Ignacy Jan Paderewski , said the Primate of Poland in 1986, 'died in the united States. The funeral ceremonies lasted several days. First, a grand memorial service was held in St. Patrick's Cathedral in New York. Then, the body was carried to Washington, D.C., and, on 5 July 1941, was laid at Arlington cemetery with military honours. The coffin with the body was laid, but not interred. The funeral was not finished'. It was finished 51 years later, on 5 July 1992, in the presence of the Presidents of Poland and the united States, with the artist's remains being placed in the crypt of St. John's cathedral in Warsaw. Thus the will of the Great Pole was implemented, which was to be laid to rest in free Poland, for which he had fought as a politician and a statesman and the cause of which he had championed through his concerts, carrying the name of Frederic Chopin high on his banner.
In his excellent book on Paderewski Adam Zamoyski wrote the following beautiful words:
'The name of Paderewski was on the lips of many generations. For people who knew nothing about music he was the embodiment of a pianist; for those who knew nothing about Poland he was the embodiment of a fiery Pole; finally, to those who did not have the faintest idea about his political career he looked like Moses – the leader of his people'.
Paderewski made a career – as was often written and said – on a cosmic scale. There has been no human being, before or after him, who enjoyed such a degree of popularity. Even Franz Liszt's great career, limited to the European continent, could not equal the extent of influence exerted by Paderewski's name. 'It was sometimes enough, as poet Jan Lechoń wrote:
'For Paderewski to appear on stage with his distant look, lion-like hair, a legendary white tie and a modest, almost humble demeanour, more reminiscent of some village bard than a great virtuoso, to make the public stand up and worship in him art itself, all that is unselfish, noble and generous in life and that everyone associated with Paderewski. Paderewski's star rose in those sad times when Poland was absent from the map of Europe – he was a son of an unhappy country, with no proud embassies or wealthy patrons standing behind him and supporting his art.
However, Paderewski felt Chopin's soul in his own soul; eager to listen to the voices in his heart, he found in them echoes of a thousand years of our beautiful and magnanimous history; […] listening to those mysterious voices, he felt that he was rich and strong. From the very first time he appeared on the art horizon he behaved like a king; having never asked anyone for anything he always wished to be generous to everyone and all his life was the fulfillment of that wish. […]No one represented true Poland in the eyes of the world better than Paderewski'.
He was formed as an artist at the Warsaw Institute of Music thanks to, among others, Professor Juliusz Janotha (1819–1883), an outstanding pianist and teacher. Professor Władysław Żeleński (1837–1921)gave the following correct assessment of the student's personality:
'A young eagle, of a noble breed, proud, courageous, ambitious, a bit aggressive and self-willed but, most of all, independent […]. He had an innate sense of what is right, rebelling against the existing state of affairs if he considered it wrong.'
The great Polish pianist and pedagogue Theodor Leschetizky (1830–1915), Paderewski's last professor in Vienna, said the following about his pupil for the Tygodnik Ilustrowany weekly in 1899:
'Paderewski… Paderewski…, repeated Leschetizky several times, as if caressing himself with that word. 'My pride and honour … He will be a brilliant artist until the end of his days, because he has the character, because he did not and would not think of any goals other than his work … He studied under my guidance for four years, two of which were devoted by him solely to five-finger exercises, until he finally achieved what we call technique … Nowadays he may not be playing for months and will still not lose his skill; his fingers will play by themselves … This is how my system works – to make finger muscles independent from elbow and forearm muscles. It is then that you achieve total freedom … And the style? After the technique we worked on developing the style […], on reconciling the individuality of the virtuoso with the intentions of the composer. The artist's individuality is a small nucleus contained within a large number of sheaths. The teacher may change the latter, but the nucleus should remain untouched. […] Paderewski is a model that demonstrates exactly how a teacher should instruct his pupil to ensure that everything that his heart may feel and his head may think gets to his fingers through tiny nerve and muscle threads.'
Paderewski achieved everything with hard work, setting high standards for himself expectations and, then, pursuing them mercilessly; he was also always an adamant guardian of the values that he believed in. This manifested itself in him as a virtuoso pianist, a Pole – fighting for his land's independence, a composer and a teacher. Those traits of his character were noticed by everyone and it was them that drew people to him.
As a Bonner Zeitung critic wrote:
'Paderewski has become one with the piano just like Chopin did before him. For him the piano is everything – the eye, the ear, the heart and the mouth; the world sings to him in piano tones, he lives the piano and uses it to interact with the world'
while a Kurier Warszawski reporter wrote:
'For a whole hour the public was flocking to Paderewski's third concert. In the vestibule downstairs the crowd was filling the staircase and the antechamber on the first floor was so packed with people that any movement towards the grand hall was hardly possible. It did not matter to anyone that other people were treading on his or her feet; even the ladies were not offended if anyone stepped on their train or got caught in their laces. Never mind the train or the laces – we are going to hear Paderewski!'
Edward Risler (1873–1929), a famous pianist and professor at the Consevatoire de Paris, described him briefly as 'A poet of the piano, a moving performer, a dazzling wizard with a noble heart, great in war and peace. Another piano master, Alfred Cortot (1877–1962), wrote the following in his letter to Paderewski:
'Is it not to the marvellous charm of Chopin's work that Poland owes its spiritual survival in human memory in the times of painful slavery? And is it not the inspired performer of his works that has been tasked with the mission of ensuring that his enslaved and martyred land becomes an independent state again? How wonderful and steeped in legend is the epic of a country that owes its liberation more to the lyre than to the sword! All of us who love and admire you are very happy to be able to honour you as a double hero – a hero of Art and of his Motherland!'
Paderewski was a virtuoso, but not in the colloquial, modern meaning of this word, i.e. a musician playing fast and loudly, but rather in the sense that it really expresses. The Latin 'virtus' means virtue, manhood, courage, strength and bravery, but also constancy. Those features were characteristic of him in all his activities. In this respect he was close to Chopin, with whom he shared similar views on art, the same love for music and the piano and the same strong uncompromising love for his Motherland!
Paderewski understood – better most people in the past and nowadays – these well-known truths when he said that 'no country may be happy unless it is free and no country may be free unless it is strong' and that 'the cause of the nation is not an undertaking that one should abandon if it yields losses instead of profits. It is a continuous and regular effort, unwavering perseverance and uninterrupted devotion from generation to generation. It can never stop and no penny should ever be spared on it.
In his portrait dedicated to Paderewski the great French composer Charles Gounod wrote only three, but very significant, words: 'To my dear, great and noble Paderewski'.
On the 75th anniversary of the death of the Great Pole his compatriots will honour him with concerts and the 10th Ignacy Jan Paderewski International Piano Competition to be held on 6–20 November in Bydgoszcz.
Although sadly out of print, many fine copies of this discerning biography of Paderewski by the masterful author Adam Zamoyski are still available on this link
http://www.abebooks.co.uk/servlet/SearchResults?an=zamoyski&bi=0&bx=off&ds=30&recentlyadded=all&sortby=17&sts=t&tn=paderewski